Contact your local school/community college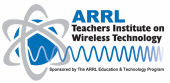 As part of our educational outreach to schools through our Education & Technology Program, each summer the ARRL offers multiple sessions of the Teachers Institute on Wireless Technology, an expenses paid professional development seminar, in locations through the U.S. The Teachers Institute provides teachers at all grade levels with tools and strategies to introduce basic electronics, the science of radio, space technology and satellite communications, as well as weather science, introduction to micro-controllers and basic robotics into their classrooms. The curriculum is designed for motivated teachers and other school staff who want to learn more about wireless technology and bring that knowledge to their students.
Summer 2022
The application for ARRL's Teachers Institute Summer 2022 should be available to complete and submit by the end of January 2022.